Posts Tagged 'eden therapy'
Monday, July 28th, 2014

ABOUT BULLIED TARGETS in 2014
Finally, we asked the American public what type of person is targeted for abusive mistreatment in the workplace. Though this was a short, not exhaustive, list of personality traits, the results are clear. Those who claimed to have been aware that workplace bullying happens, believe that the overwhelming majority of individuals targeted possess positive attributes.
That is, the same respondents who believed that targets are mostly incapable of defending themselves against bullying assaults believe targets are kind, cooperative and agreeable. Perhaps these same traits render the guileless person vulnerable to unpredictable attacks. This Survey does not provide a way to draw the causal link between the traits and targets' ability to defend themselves.
It is noteworthy that only 6% of targets are considered abusers themselves.
Question: Which personal style best describes the targeted person?
Download the About Bullied Targets mini-Report
###
Gary Namie, PhD, Research Director
Research Assistants: Daniel Christensen & David Phillips
© 2014, Workplace Bullying Institute, All Rights Reserved
Download the complete Report | Access individual sections of the Report

Tags: 2014 U.S. Workplace Bullying Survey, bullying statistics, coaching, Daniel Christensen, Dave Phillips, eden therapy, Gary Namie, Jessi Eden Brown, workplace bullying, Workplace Bullying Institute
Posted in WBI Surveys & Studies | 4 Archived Comments | Post A Comment () »
Friday, May 24th, 2013
An Introduction to Workplace Bullying: For Mental Health Practitioners

We designed this brand new DVD with two goals in mind: To help Targets of workplace bullying and to train mental health professionals about this challenging topic. It is the perfect introductory training for mental health practitioners.
It gives Targets the power to teach their counselors about workplace bullying. As a bullied target, you can watch this video alongside your therapist and learn about the phenomenon together, during a single session. Don't blame your therapist for not understanding workplace bullying. There are not many professionals out there that have experience with the phenomenon. In a 2013 WBI Instant Poll only 29.7% of Mental Health Professionals had a complete understanding of workplace bullying.


Teach Your Psychotherapist How to Help You
Bullied targets are a challenging clinical population, in part due to the recurring trauma and marked isolation they endure. And, while a significant body of research links workplace bullying to physical, mental, social, and economic health harm for the bullied target, there is a paucity of mental health professionals specially trained to work with this phenomenon.
What to do: Use one 50 min. session with your psychotherapist to play this DVD while you are in the room. Stop the disc whenever questions arise, or if you want to make a point to your therapist about your experience. Use the DVD to start a dialogue.

In this video, Jessi Eden Brown, MS, LMHC, LPC, NCC an experienced, licensed mental health therapist and the WBI Professional Coach, shows clinicians the pitfalls many therapists fall into when helping Targets of workplace bullying. She offers practical advice about how best to support those hurting. Viewers will learn how to recognize the signs, and address the symptoms, of workplace bullying in their clients. Ms. Brown skillfully imparts the unique treatment considerations associated with counseling bullied targets and offers practitioners an assortment of resources for supporting clients and their families.
Targets and counselors, click here to purchase a DVD for your next session!

Tags: bullied targets, counseling, counselors, DVD, eden therapy, help for bullied targets, Jessi Brown, Jessi Eden Brown, targets, therapy, WBI coaching, workplace bullying
Posted in Products & Services, Tutorials About Bullying | No Archived Comments | Post A Comment () »
Tuesday, May 14th, 2013
Attention Seattle-Area Residents
The next series of support groups for targets of workplace bullying is about to begin!
WBI's Professional Coach and Licensed Psychotherapist, Jessi Eden Brown, MS, LMHC, NCC, invites you to join the next round of support groups in the N. Seattle area.
This is an excellent chance to receive specialized guidance for dealing with your workplace bullying situation, as well as connect with other targets in our region.
Please email Jessi Eden Brown through her private practice to learn more about this opportunity.

Tags: counseling, counselor, eden therapy, Jessi Eden Brown, Seattle, support group, therapist, therapy, workplace bullying
Posted in Fairness & Social Justice Denied | No Archived Comments | Post A Comment () »
Tuesday, February 26th, 2013
Here is an excerpt of the Counseling Today article by Lynne Shallcross entitled Grown-up bullying. WBI coach Jessi Eden Brown, MS, LMHC, contributed to the section about bullying in the workplace:
---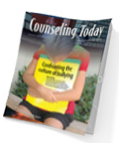 Unfortunately, graduating from college still doesn't guarantee an end to bullying. A 2010 survey commissioned by the Workplace Bullying Institute (WBI) found that 35 percent of the U.S. workforce — an estimated 53.5 million Americans — report being bullied at work. An additional 15 percent said they had witnessed co-workers being bullied.
These statistics are all too familiar to Jessi Eden Brown, who serves as WBI's administrator and also runs a private counseling practice in the Seattle area. About half of her clients deal with issues related to workplace bullying.

Tags: coaching, Counseling Today, eden therapy, help for bullied targets, Jessi Eden Brown, WBI, workplace bullying
Posted in Products & Services, WBI Education, WBI in the News | No Archived Comments | Post A Comment () »
Tuesday, October 30th, 2012
WBI's Administrator and licensed mental health counselor, Jessi Eden Brown, MS, LMHC, LPC, NCC is forming a support group for targets of workplace bullying. Jessi's private practice is located in the North Seattle area. If you're interested, please email Jessi Brown to find out more.

Tags: bullying, eden therapy, Jessi Eden Brown, PTSD, stress, therapy
Posted in Freedom Week, Products & Services, Tutorials About Bullying | 1 Archived Comment | Post A Comment () »
Tuesday, May 8th, 2012
WBI Coach, Jessi Eden Brown, teaches her fellow counselors about workplace bullying and clears up misconceptions held by therapists in their work with bullied clients. Her letter to the editor of "Counseling Today," the monthly publication for the American Counseling Association, was published in the May 2012 issue. With a readership of more than 46,000 mental health professionals, Counseling Today is a great way for us to raise awareness about workplace bullying! You can learn more about Jessi's work at her private practice website.

Tags: coaching, Counseling Today, eden therapy, Jessi Brown, Jessi Eden Brown, workplace bullying
Posted in Products & Services, WBI in the News | No Archived Comments | Post A Comment () »