Posts Tagged 'help for bullied targets'
Friday, May 24th, 2013
An Introduction to Workplace Bullying: For Mental Health Practitioners

We designed this brand new DVD with two goals in mind: To help Targets of workplace bullying and to train mental health professionals about this challenging topic. It is the perfect introductory training for mental health practitioners.
It gives Targets the power to teach their counselors about workplace bullying. As a bullied target, you can watch this video alongside your therapist and learn about the phenomenon together, during a single session. Don't blame your therapist for not understanding workplace bullying. There are not many professionals out there that have experience with the phenomenon. In a 2013 WBI Instant Poll only 29.7% of Mental Health Professionals had a complete understanding of workplace bullying.


Teach Your Psychotherapist How to Help You
Bullied targets are a challenging clinical population, in part due to the recurring trauma and marked isolation they endure. And, while a significant body of research links workplace bullying to physical, mental, social, and economic health harm for the bullied target, there is a paucity of mental health professionals specially trained to work with this phenomenon.
What to do: Use one 50 min. session with your psychotherapist to play this DVD while you are in the room. Stop the disc whenever questions arise, or if you want to make a point to your therapist about your experience. Use the DVD to start a dialogue.

In this video, Jessi Eden Brown, MS, LMHC, LPC, NCC an experienced, licensed mental health therapist and the WBI Professional Coach, shows clinicians the pitfalls many therapists fall into when helping Targets of workplace bullying. She offers practical advice about how best to support those hurting. Viewers will learn how to recognize the signs, and address the symptoms, of workplace bullying in their clients. Ms. Brown skillfully imparts the unique treatment considerations associated with counseling bullied targets and offers practitioners an assortment of resources for supporting clients and their families.
Targets and counselors, click here to purchase a DVD for your next session!

Tags: bullied targets, counseling, counselors, DVD, eden therapy, help for bullied targets, Jessi Brown, Jessi Eden Brown, targets, therapy, WBI coaching, workplace bullying
Posted in Products & Services, Tutorials About Bullying | No Archived Comments | Post A Comment () »
Tuesday, February 26th, 2013
Here is an excerpt of the Counseling Today article by Lynne Shallcross entitled Grown-up bullying. WBI coach Jessi Eden Brown, MS, LMHC, contributed to the section about bullying in the workplace:
---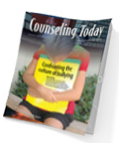 Unfortunately, graduating from college still doesn't guarantee an end to bullying. A 2010 survey commissioned by the Workplace Bullying Institute (WBI) found that 35 percent of the U.S. workforce — an estimated 53.5 million Americans — report being bullied at work. An additional 15 percent said they had witnessed co-workers being bullied.
These statistics are all too familiar to Jessi Eden Brown, who serves as WBI's administrator and also runs a private counseling practice in the Seattle area. About half of her clients deal with issues related to workplace bullying.

Tags: coaching, Counseling Today, eden therapy, help for bullied targets, Jessi Eden Brown, WBI, workplace bullying
Posted in Products & Services, WBI Education, WBI in the News | No Archived Comments | Post A Comment () »
Friday, November 18th, 2011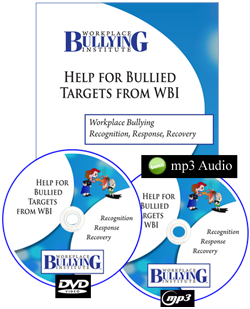 WBI proudly announces its first-ever advice DVD made specifically for bullied individuals and their families featuring our staff. The 90 min. DVD package includes a disc of audio files for uploading to any device. The release date is Dec. 1 — in time for holiday giving.
Order between Nov. 21 and 30, receive a $5 discount ($34.95). See the product description at this site.

Tags: advice, DVD, help for bullied targets, Workplace Bullying Institute
Posted in Events & Appearances, Tutorials About Bullying | No Archived Comments | Post A Comment () »