Posts Tagged 'SHRM'
Tuesday, February 13th, 2018
Bully Bosses Can Inflict More Damage with Negative References
By Dinah Wisenberg Brin, SHRM, Feb 12, 2018
Employees trying to escape a bullying boss, and even those who have managed to land a new position, may be surprised to learn that their workplace nemesis is causing further damage by providing negative job references.
HR departments similarly may not realize that supervisors are disregarding company policies against giving references that go beyond confirming job titles and employment dates.
With prospective employers often bypassing human resources and calling supervisors for references, bully bosses can and do impair employees' future job prospects, experts say.
"In the good old days, the references were HR, and in many cases, in many companies, HR still is the traditional venue. But we've seen a marked shift of interest in calling the former supervisors," said Jeff Shane, president of reference-checking firm Allison & Taylor. "Hiring managers have long since figured out that supervisors tend to be far more talkative."
Job seekers often wrongly believe that their current or former employers will say nothing negative and do no more than confirm employment, Shane said.
Many supervisors, however, never receive company training on how to respond to employee reference checks, while many others forget or ignore the policy, he added. His Rochester, Mich.-based firm checks references on behalf of job seekers, compiles reports on responses from former employers, and, if necessary, sends cease-and-desist letters to companies violating policies or even laws by supplying negative references that cross the line into misrepresentations or lies and that could be construed as defamation.
"We call a great many supervisors as references for individuals. The vast majority of the time, the supervisor has something to say" beyond titles and employment dates; their reviews, even if sincere, often are less than optimal. "In many instances, they know exactly what they're doing" and that the employee is unlikely to ever find out if the negative review caused a missed opportunity, Shane said.
Nearly half of all reference checks that Allison & Taylor conducts contain some degree of negativity, he said. Even a supervisor who gives an employee a positive letter of recommendation will sometimes go "180 degrees in another direction" when called for a reference, he said.
Smart firms wanting to avoid litigation coach bosses to give only employment dates, said Gary Namie, Ph.D., co-founder of the Workplace Bullying Institute, which refers bullying targets to Allison & Taylor to learn about feedback from a current or former employer. Often the news confirms a candidate's fear, and "a great many of our clients are totally shocked and devastated" by what is found. (more…)

Tags: Allison & Taylor, bullied targets, bullies giving bad references, Gary Namie, reference checking, SHRM, workplace bullying, Workplace Bullying Institute
Posted in Employers Gone Wild: Doing Bad Things, Media About Bullying, Print: News, Blogs, Magazines | No Archived Comments | Post A Comment () »
Tuesday, March 31st, 2015
This Time, It's Personal
Will legislation to protect employees from workplace bullying stifle demanding managers?
By Steven Yoder, Comstock's, March 31, 2015
Carrie Clark, 63, says bullies aren't confined to playgrounds. Sometimes, they run the whole school. 
In 1995, Clark directed an English as a Second Language program in West Sacramento's Washington Unified School District. An influx of foreign students was forcing her staff to work ever-longer hours. She wrote several reports to the district superintendent documenting the extra load and asking for more help. She got no response, she says. So her teachers union representative suggested she put together a petition signed by program staff.
That got a reaction, but not the one she wanted. The superintendent took Clark off of the school's committee of department chairs and canceled and consolidated classes. Clark says he called her house and left an odd, garbled message, and one day after a meeting, he followed her into an empty hallway. Towering over her, his face a foot from hers, he screamed that he wanted "no more petitions!"
Scared, Clark quit a few weeks later. She developed tremors in her right side, which she still has, started having heart palpitations and couldn't sleep. Today, when she talks about what happened, her speech slows to a crawl and her voice quavers like a warped record. A Sacramento occupational medicine specialist diagnosed her with a post-traumatic stress disorder related to her job. After a 20-year teaching career, she'd never set foot in a classroom again. In 2002, she won a $150,000 workers' compensation claim against the district.
There's evidence that the superintendent targeted others who crossed him. He took a job in a district near Yuba City, and in January 1999 the teachers association president there told The Valley Mirror that the superintendent verbally threatened her and that she'd asked a court for a restraining order. She also told a reporter that she was having panic attacks for the first time in her life. (The superintendent, now retired, keeps an unlisted phone number and didn't respond to a certified letter sent to his address requesting an interview.)

Tags: AB 2053, abusive conduct, Ann Wrixon, bill, Carrie Clark, Gary Namie, Healthy Workplace Bill, HR, Independent Adoption Center, legislation, Michael Kalt, SHRM, workplace bullying
Posted in Healthy Workplace Bill (U.S. campaign), Media About Bullying, Print: News, Blogs, Magazines, Target Tale, WBI in the News, Workplace Bullying Laws | No Archived Comments | Post A Comment () »
Tuesday, May 27th, 2014
States Consider Bills To Crack Down On Workplace Bullies
By Yuki Noguchi, National Public Radio (NPR), May 27, 2014
Listen to the NPR audio segment
Audio clip: Adobe Flash Player (version 9 or above) is required to play this audio clip. Download the latest version here. You also need to have JavaScript enabled in your browser.
Bullying is a behavioral problem often associated with children in grade school, but according to the Workplace Bullying Institute more than a quarter of American workers say they've experienced abusive conduct at work.
Now, many states are considering laws that would give workers legal protections against workplace abuse.
Lisa-Marie Mulkern says her boss — the commandant of a retirement home for veterans in New Hampshire — turned on her after she expressed concerns about what she calls wasteful financial management. Mulkern was working as a public-relations manager and fundraiser at the home.
"Even though residents and their families had nothing but praise for my work, and the home's publicity continued to increase, the commandant started to make my work situation a living hell," she says.
Mulkern says she was repeatedly excluded from meetings and denied credit for her work and access to critical information. Colleagues took notice but treated her like she was contagious. "And I was told point blank, 'You're on your own with that one, Lisa-Marie,' " she says.
Mulkern says she lost weight and sleep from the stress.
"I didn't realize how much of a toll it was taking on me. I was the public face of the home, and I was trying to look the part of the PR person and not let people know that personally, I was being pummeled at work," she says.
In 2006, after four years working at the retirement home, Mulkern tangled with her boss over a bad evaluation, and lost her job. The current commandant of the home declined to discuss Mulkern's case, citing state privacy laws. But Mulkern has since testified several times before the New Hampshire legislature, which is one of 15 states, including, and,that are considering bills giving legal protection to workers harmed in abusive work environments.

Tags: David Yamada, Healthy Workplace Bill, NPR, SHRM, workplace bullying
Posted in Broadcasts: Video, TV, radio, webinars, Healthy Workplace Bill (U.S. campaign), Media About Bullying, WBI in the News, Workplace Bullying Laws | No Archived Comments | Post A Comment () »
Monday, March 3rd, 2014
By Scott Wooldridge, Benefits Pro, March 3, 2014
Public awareness of workplace bullying has never been higher, thanks to high-profile cases such as the one involving Miami Dolphins teammates Richie Incognito and Jonathan Martin. Yet none of the more than two dozen states that have taken up the issue has actually passed any legislation to tackle the problem.
A recent survey found that 93 percent of Americans support legislation that would offer protections against bullying at work. The survey, conducted by Zogby Analytics for the Workplace Bullying Institute, found that 27 percent of Americans report having experienced abusive conduct at work. Another 21 percent say they have witnessed such behavior. Overall, 72 percent of those surveyed said they were aware of the issue of workplace bullying.
"Everybody has a story," said Gary Namie, co-founder and director of the Workplace Bullying Institute. "It is an epidemic. When you count witnesses, 65 million people in the workforce know firsthand what (bullying) is about."
The Incognito-Martin case brought workplace bullying into the spotlight.
Martin accused Incognito of bullying him, and then left the team. A lawyer hired by the National Football League to investigate the matter recently released a report concluding that Incognito "engaged in a pattern of harassment" of Martin.
Namie and his Bellingham, Wash.-based institute have been working on the issue for more than 20 years, but he said that the Incognito-Martin case caused "a tectonic shift."

Tags: 2014 WBI U.S. Workplace Bullying Survey, anti-bullying legislation, bullying research, Gary Namie, Healthy Workplace Bill, SHRM, survey, workplace bullying, Workplace Bullying Institute
Posted in Employers Gone Wild: Doing Bad Things, Healthy Workplace Bill (U.S. campaign), NFL: Jonathan Martin, WBI Education, WBI in the News, WBI Surveys & Studies, Workplace Bullying Laws | No Archived Comments | Post A Comment () »
Wednesday, November 20th, 2013
By Jessica Krampe, Success, Nov. 20, 2013
Think about bullies and you imagine the schoolyard or, in the wake of the Miami Dolphins' scandal, the locker room. The stereotype bully is a big doofus or a "mean girl" who uses an unfair advantage to brutalize or denigrate a weaker counterpart.
Bullies grow up—and not all get drafted into the NFL. They go to work just like the rest of us. Like the stereotype, they seek to undermine a weaker person to gain power. Unlike the stereotype, workplace bullies aren't meatheads; they're often politically astute, possessing strong leadership skills and the capability to ace a performance evaluation, according to research.
Could you have a bully in your organization? Quite possibly, experts say. Would you know it? Not necessarily.

Tags: Jessica Krampe, Jonathan Martin, Miami Dolphins, NFL, SHRM, Treadway, workplace bullying
Posted in Media About Bullying, NFL: Jonathan Martin, Print: News, Blogs, Magazines, WBI in the News | No Archived Comments | Post A Comment () »
Tuesday, July 23rd, 2013
By Ron Maurer, SHRM, July 16, 2013
Since 2003, 25 states have introduced workplace bullying legislation that would allow workers to sue for harassment without requiring a showing of discrimination.
Critics contend that these laws would encourage frivolous lawsuits. Could they protect workers from bullying while not opening up employers to scores of meritless claims or imposing a civility code on the workplace?
"In fact, workplace bullying may lead to the boldest proposed change in U.S. employment law since the passage of Title VII of the Civil Rights Act," said Lori Armstrong Halber, a partner in the Philadelphia office of Fisher & Phillips.
"We all agree with the concept that there shouldn't be jerks in the workplace, but the issue is whether we can legislate that," said Rick Grimaldi, a partner in the Philadelphia and Washington, D.C., offices of Fisher & Phillips. "The whole concept is difficult to get your head around when you think about how expansive this could be. Every disgruntled employee becomes a potential plaintiff."
Presently, bullying by itself does not violate Title VII or any other anti-discrimination law.

Tags: Healthy Workplace Bill, Ron Maurer, SHRM, workplace bullying
Posted in Healthy Workplace Bill (U.S. campaign), WBI in the News, Workplace Bullying Laws | 5 Archived Comments | Post A Comment () »
Friday, July 5th, 2013
Valerie Jarrett, an adviser to Pres. Obama, was the one to announce that employers will have an extra year to not provide employees with health insurance if they do not now. The White House chose to make the announcement the day before July 4 on Jarrett's blog. The headline read: "We're Listening to Businesses about the Health Care Law." Too bad they don't listen to workers without insurance whose immediate health problems require medical attention! But in America, as in no other major industrialized nation, without insurance people don't have affordable access to doctors, clinics or hospitals.
Jarrett wrote:
"As we implement this law, we have and will continue to make changes as needed. In our ongoing discussions with businesses we have heard that you need the time to get this right," she said in a post on the White House blog. "We are listening."
According to the Kaiser Family Foundation 2012 Survey of Employers: 94% of employers with 50-199 employees provide some sort of health insurance (albeit with high deductibles and premium sharing); 98% of employers with over 200 employees make insurance available. Then, why the delay? Implementation of the law (passed back in 2010) will affect only employers with 50 or more employees.
SHRM, the HR trade association sure was happy, telling their members:
HR professionals across the country are celebrating today, not just in anticipation for Independence Day, but because of the U.S. Treasury Department's announcement of a one year delay in implementing the employer mandate in the Patient Protection and Affordable Care Act.
Thought you'd want to know who has the ear of the President.

Tags: Affordable Care Act, health insurance, HR, Jarrett, Obamacare, SHRM
Posted in Commentary by G. Namie, Fairness & Social Justice Denied | No Archived Comments | Post A Comment () »
Friday, April 19th, 2013
Part of the Fair Labor Standards Act of 1938 created the policy that working more than 40 hours per week entitled workers to compensation at one and one-half their pay rate for each hour worked in overtime. Unions enjoy that benefit. Unionized workers can work overtime and accept "comp time" converted to paid time off at the 1.5 hour rate. Non-unionized workers do not have the same benefit.
Now comes the 2013 version of a bill introduced in the U.S. Congress since 1998, unabashedly mis-titled "Working Families Flexibility Act." Chris Hayes of MSNBC (in the video above) calls it "Orwellian." Rep. Nancy Pelosi (D) calls it a "cruel hoax on the American family."
On April 11, the "Workforce Protections" Subcommittee of the House Education and Workforce Committee (called Education and Labor under Democratic chairmen) held a hearing on the bill, H.R. 1406. Read the text of the bill here.

Tags: comp time, Eric Cantor, Fair Labor Standards Act, HR 1406, Juanita Phillips, Judith Lichtman, National Partnership for Women & Families, overtime, SHRM, Working Families Flexibility Act
Posted in Employers Gone Wild: Doing Bad Things | No Archived Comments | Post A Comment () »
Thursday, March 28th, 2013
UPDATE: To write a great workplace bullying policy and enforcement procedures, go here.
When fuzzy facts (first generation distortion) are allowed to pass for actual data and circulated widely by media (2nd gen distortion) they used by critics to undermine the anti-bullying campaign. Let's clear the air about current American employer engagement in stopping workplace bullying.
SHRM (the HR trade association) conducted a 2011 study about workplace bullying and reported results in Feb. 2012. The non-scientific survey of members had a low response rate of 15% (the final 401 respondents meant SHRM randomly polled 2,673 members). The results shed light on HR's view about the prevalence of workplace bullying policies in the U.S. When asked if respondents' organizations had specific anti-bullying policies in place, 44% of HR respondents defiantly stated their organization has "no policy and has no plans to put a workplace bullying policy in place." The answer, "No, but we plan to put a formal policy in place in the next 12 months," was chosen by 13%. Another 40% said, "Yes, our workplace bullying policy is part of another workplace policy." Only 3% of SHRM members said "Yes. We have a separate workplace bullying policy" in our organization.

Actual slide from 2012 SHRM survey results from which 56% statistic was plucked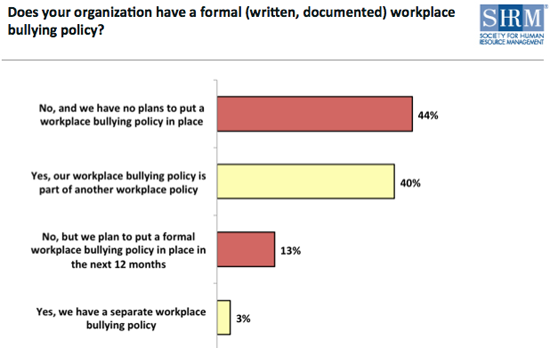 You can download the slide show from here.
(more…)

Tags: Gary Namie, HR, human resources, SHRM, surveys, WBI research, workplace bullying, workplace bullying policies
Posted in Employers Gone Wild: Doing Bad Things, Media About Bullying, Print: News, Blogs, Magazines, WBI Education, WBI Surveys & Studies | 7 Archived Comments | Post A Comment () »
Wednesday, March 6th, 2013
The original March 1 article written by Sam Hananel of Associated Press was carried by the following news outlets:
Note: Broken links are the result of original sources dropping the content. You can always read the full content at this WBI blog.
ABC News | CBS News | Fox News-The Five | Fox-4-TV Dallas-Fort Worth | WLUK-TV-11 Green Bay | WWLP-TV, Springfield, MA | WKRG-TV-5 Mobile AL | KOMO News Seattle | KSDK St. Louis | KWTX Waco, Temple, Kileen (TX)
The Washington Post | USA Today | MSN | Yahoo News | Yahoo Finance | The Christian Science Monitor | Boston Herald | Seattle Post Intelligencer | San Antonio Express News | San Diego Union-Times | Las Vegas Sun | The Oklahoman | The Olympian (WA) | Free Press Burlington, VT | The Clarion Ledger, Jackson, MS | Journal Gazette & Times-Courier Mattoon, IL | Modesto Bee (CA) | Times Union Albany NY | Times Free Press, Chattanooga, TN | Long Island Business News | The News Journal, Delaware | Times-News Erie, PA | The Spectrum, Southern, Utah | Associations Now | Arizona Republic | The Tennessean | Oswego County, NY Palladium-Times | Toledo Blade | CNY Central | Madison.com | North Jersey Record | Mondaq.com (HR, Canada) | The Columbus Dispatch (OH) | The Detroit News | Logan Banner (WV) | St. Paul Pioneer Press (MN)

Tags: associated press, Gary Namie, Greg Sorozan, Sharon Parella, SHRM, workplace bullying
Posted in Broadcasts: Video, TV, radio, webinars, Media About Bullying, Print: News, Blogs, Magazines, Unions, WBI in the News | No Archived Comments | Post A Comment () »