Posts Tagged 'Workplace Bullying Institute'
Monday, November 26th, 2018
From Reuters news service
Suicide Rate Rising Among U.S. Workers
By Lisa Rapaport
(Reuters Health) – Suicide rates are rising among U.S. workers, and the risk may depend partly on the types of jobs people do, government researchers suggest.
From 2000 to 2016, the U.S. suicide rate among adults ages 16 to 64 rose 34 percent, from 12.9 deaths for every 100,000 people in the population to 17.3 per 100,000, according to the study by the Centers for Disease Control and Prevention (CDC).
The highest suicide rate among men was for workers in construction and mining jobs, with 43.6 deaths for every 100,000 workers in 2012 and 53.2 deaths per 100,000 in 2015, the analysis found.
The highest suicide rate among women was for workers in arts, design, entertainment, sports and media, with 11.7 fatalities for every 100,000 workers in 2012 and 15.6 deaths per 100,000 in 2015.
"Since most adults spend a great deal of their time at work, the workplace is an important and underutilized venue for suicide prevention," said study co-author Deborah Stone, a behavioral scientist at the CDC in Atlanta.
While the study wasn't designed to prove whether or how specific types of jobs or workplace characteristics might contribute to the risk of suicide, lack of control over employment and a lack of job security can both be stressors that make suicide more likely, Stone said by email.
Many factors outside the workplace can also influence the risk of suicide, including relationship problems, substance use, physical or mental health, finances or legal problems, Stone added.
And ready access to guns and other weapons have a big impact on whether suicidal thoughts turn into actions with fatal outcomes, Stone said.
Guns may explain the higher suicide rates among men than among women, said Gary Namie, director of the Workplace Bullying Institute in Clarkston, Washington.
"In America, with ready access to guns, men make the choice of death by gun, but it is the less likely choice by females," Namie, who wasn't involved in the study, said by email. "Hence, it is possible that in moments of despair that might pass if friends or family could intervene, with a gun handy, the decision is too quickly implemented."
(more…)

Tags: abusive workplace conduct, bullying causes suicide, CDC, Gary Namie, suicide, workplace bullying, Workplace Bullying Institute
Posted in Tutorials | No Archived Comments | Post A Comment () »
Wednesday, November 14th, 2018
WBI in New Zealand 2018, a diary
The trip began with an Oct 22 appearance on NZ TV1 (Auckland) Breakfast show promoting the Oct 24-25 CultureShift Conference in Wellington.
---
Then came the 2-day conference hosted by CultureSafe NZ, the nation's only anti-bullying organization founded by Allan Halse.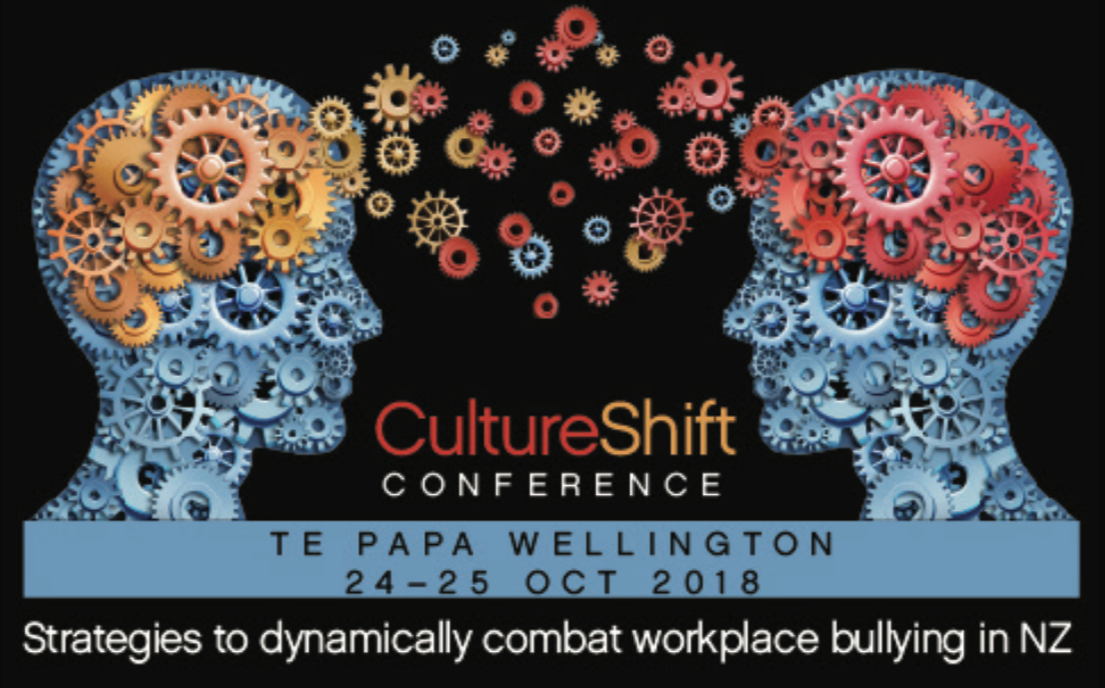 The event began with an indigenous people's Maori welcome.
There were two MeToo-related presentations which bracketed the conference. An early presenter, Olivia Wensley, is an activist lawyer whose publicly chronicled sexual harassment gained national notoriety. Her fight is with the Law Society that remains in denial about its professional members' bad behavior. The final speaker was Marni Stevenson, a business consultant who endured sexual assault in her workplace. Her presentation was her first MeToo revelation. Remarkably, her manager's initial response to the assault was to question her suitability for her job!
Bernadette Soares, a highly educated Indian, moved to NZ hoping for positive change only to face discrimination. Her tale was an inspiring story of entrepreneurship and how to move beyond mistreatment in the workplace.
There were two union presenters — Rachel Mackintosh and Brad Clark. Rachel spoke of on-the-ground tales successes against resistant public sector employers. Brad was a high-ranking officer of PSA, the largest union in NZ. He was disconnected from bullied members while claiming to have all the expertise on the topic the union needs. He spoke like a politician. A woman in the audience, a PSA member, spoke of the ignorance about bullying by union reps in the field.
Australian book author Jaq James spoke about the corruption within Aussie government agencies that dictates how they abuse workers further after complaining about being bullied. In particular, employers there use psychiatrists who consistently abuse the IME process and mis-diagnose bullied workers to absolve employers of responsibility for harming those workers.
Clinical psychologist Dr. Prudence Fisher, who understands bullying and regularly evaluates bullied workers in NZ in a way very differently than the Australians, chose one of her cases to illustrate the vastly different worldviews held by a bully and her target. Fisher dissected the divergent early family experiences and expectations about workplaces brought to the situation by the bully and target. She shed light on approaches to help both players find resolution.
Shaun Robinson, Director of the NZ national Mental Health Foundation, addressed the spate of suicides, representing the highest ever annual total. He linked suicide to bullying and primarily to the nation's high rate of domestic violence and sexual assault. Most important, he specified aspects of New Zealand's aggression-plagued culture. He also participated in a panel Q&A during which rugby as national sport, and thus central to NZ's national character, was discussed. Remarkably, according to Robinson, celebrity players from the national rugby team, All Blacks, appear in promotional advertisements decrying domestic violence and aggression.
There were three representatives from the national government. The Minister of Justice (from the majority Labour Party) Andrew Little opened the conference, lending endorsement from the Prime Minister. In place of traditional platitudes, Little recalled highlights of his career as union lawyer and fighting for social justice. Shortly after Little spoke, Nicole Rosie, Chief Executive, WorkSafe New Zealand took to the podium. Her agency is only 3.5 years old, founded in the aftermath of a coal mining disaster. She made two remarkable assertions — (1) that her agency does not focus on safety for individuals but cares most about systems used by employers, and (2) bullying is not part WorkSafe's mandate. She identified that cardiovascular diseases represent 20% of workplace deaths, but she did not feel compelled to explore the causal link with bullying. She was not fondly received by the audience. Her approach — deflection of responsibility to see workplace bullying as a workplace health hazard — was obvious and resented by the conference attendees.
By far, the most popular government representative was MP Scott Simpson, Spokesperson for Workplace Relations and Safety (for the opposition National Party). He outlined how to use the power of the opposition party to advance the anti-bullying cause in NZ. He dared the activists, led by CultureSafe NZ, with whom he regularly meets, to force the National Party to include workplace bullying on the party platform as a step toward national legislation in the future. He invited everyone to schedule meetings with all politicians.
There were two speakers from CultureSafe NZ, the conference host organization. Allan Halse, CultureSafe Director, was master of ceremonies for the conference. Dr. Joanna Bishop provided details of bullying incidents that actually occur. Her experience derives from a hundred cases being considered for ERA hearings. Iriaka Isaacs, a union organizer and CultureSafe volunteer educator colorfully described the stages of targethood through which nearly all bullied victims pass. Especially poignant was the plummet from a rosy "Honeymoon Period" after initial hire to the "Bottom of the Cliff," an unremitting state of despair.
Dr. Gary Namie spoke about what NZ should avoid based on lessons learned in the US. Download the presentation here.

---
Visiting Time
---
Then learning time … Oct 31 – Nov 2
Graduates …
The Trio … Gary & Ruth Namie, WBI and Allan Halse, CultureSafe NZ
---
Dr. Suzanne Henwood, a participant in University, produced a short video … Visit her website The Healthy Workplace
First Aid for Targets
---
Also, while at University, the New Zealand Herald interviewed me and published this report.
---
Then home …

Tags: abusive workplace conduct, Allan Halse, CultureSafe NZ, Employment Relations Authority, ERA, Gary Namie, health-harming mistreatment, New Zealand, Ruth Namie, TV1, Workplace Bullying Institute, Workplace Bullying University, WorkSafe
Posted in Tutorials | No Archived Comments | Post A Comment () »
Saturday, May 19th, 2018
Shoemaker Nike landed in the news for a good reason. CEO Mark Parker suddenly started listening to employees. The Board heard from departing female executives that Nike had a toxic work environment, at least for women. There was an internal anonymous survey about misconduct. It listened to other women acting as an internal #MeToo task force who called out the corporation for years of treating sexual harassment and coercion complaints with indifference. They outed their own version of Harvey Weinstein, Trevor Edwards, a man being groomed to succeed Parker. He was branded an undesirable sexual predator like so many other high-profile men. Despite having been shamed into expulsion, Nike gave Edwards a soft economic landing — $525,000 payout and almost $9 million worth of stock.
Edwards was allegedly responsible for "behavior occurring within our organization that do not reflect our core values of inclusivity, respect and empowerment," Parker wrote to employees. He saluted the "strong and courageous employees" who had come forward. The reporting attached below found that Nike has an anti-bullying policy that addresses misconduct in addition to legally mandated protections for special status group members. Hence, the negativity associated with disrespect.
Following the breaking news about the ejection of Edwards, a rarity in American business, Nike announced the termination of five others — including one woman executive. To WBI this meant that the MeToo complainants had reached beyond the narrow bounds of illegal sexual harassment. The primarily women complainants had had it with abusive practices by more people than Edwards, including the woman, Gina. By firing a woman on the advice of women employees, same gender abuse must have been practiced. That's workplace bullying.
We hope for two outcomes: (1) that the Nike awakening to the much more prevalent and damaging practice of generalized workplace abuse in addition to sexual harassment is real and sustainable, and (2) that American employers see the challenge posed by early adopter Nike and start to replicate the corrections in their own C-suites.
Purging high-level bullies will never likely be a fad, but it is certainly time that major corporations (and stagnant government agencies at all levels) discover bullying and choose to eradicate it for the psychological safety of the vast majority of its workers. Stop protecting and defending abusers.
Could this be an American employer awakening? We wait to see.
###
The Bloomberg News and France 24 reports about Nike …
Bloomberg
Companies Have an Aha! Moment: Bullies Don't Make the Best Managers
by Matthew Townsend and Esmé E Deprez, Bloomberg, May 9, 2018
Nike's ouster of a top executive casts new light on the hard-knuckled behavior common in many offices.
After Nike Inc. ousted a handful of male executives for behavior issues over the past few months, some media reports tied the departures to the #MeToo movement and its revelations of sexual harassment and assault. Interviews with more than a dozen former Nike employees, including senior executives, however, paint a picture of a workplace contaminated by a different behavior: corporate bullying. The workers say the sneaker giant could be a bruising place for both men and women, and that females did bullying, too. On May 8, Nike signaled as much when it confirmed four more exits stemming from an internal misconduct inquiry, including the departure of a woman with more than 20 years at the company.
The surprise announcement in March that 55-year-old Nike brand president Trevor Edwards—who had a reputation for humiliating subordinates in meetings—would leave following an internal investigation about workplace behavior issues suggests the coddling of tough guys may have come to an end. "Some companies are realizing that a bullying boss isn't the best way to manage a company," says David Yamada, a professor at Suffolk University Law School in Boston who's authored antibullying legislation. "Maybe we're starting to see a tipping point."
Gary Namie, co-founder of the Workplace Bullying Institute, who consults with businesses on workplace issues, says one reason some companies have long tolerated or even encouraged such behavior is that many American managers believe the workplace is by nature rough around the edges. "Bullying is inextricably interwoven with capitalism," he says. "It creates a zero-sum, competitive work environment where people feel they need to obliterate their competitors."
Some former employees say that was the case at Nike, particularly among managers who used abusive tactics to safeguard their own position or authority. "There are a lot of very talented people deeper in the organization who have been marginalized both by senior and middle management trying to protect their domain," says Shaz Kahng, who was a senior executive at Nike for six years through 2010. "People are often promoted based on relationships, not on results."
In response to complaints, including from departing female executives, Nike ousted Edwards, who'd been a favorite to become the company's next chief executive officer. Edwards, according to some of the former employees, at times bullied workers through insults and disparaging comments. More important, once he set the tone, other people mirrored his behavior, they say. A handful of executives who worked for Edwards have since left Nike.
"I've been disturbed to hear from some employees of behavior inconsistent with our values," CEO Mark Parker said in an emailed statement. "When we discover issues, we take action."
Nike also provided Bloomberg with the transcript of a town hall Parker held on May 3, in which he vowed the environment will change. "We all have an obligation—and it's non-negotiable—to create and cultivate an environment of respect and inclusion," he told employees. "And that starts with me. I apologize to the people on our team who were excluded. … We're going to move from a place where the loudest voices carry the conversation to [one where] every voice is heard."
The company declined to make Edwards available for an interview. He's acting as an adviser to Parker until he retires in August, when he'll receive a $525,000 payout, according to public filings.
Nike says it's reviewing how it deals with complaints, redesigning management training, and beginning unconscious bias awareness education for employees this year. It's also vowed to promote more women and minorities into leadership roles. Currently, managers are 38 percent women and 23 percent nonwhite.
Workplace bullying is often defined as behavior—including verbal abuse, derogatory remarks, humiliation, and undermining work performance—that results in physical or mental harm. About 1 in 5 Americans say they've been the target of it, according to a 2017 survey by Zogby Analytics that was commissioned by the Workplace Bullying Institute. Men make up 70 percent of the perpetrators and 34 percent of the targets. "It's a significant and still underreported problem," Yamada says. Surveys have shown such behavior is four times more prevalent than legally actionable sexual harassment, he says. "Bullying looms large."
Ironically, Nike is one of the minority of companies that has a formal antiharassment policy that calls out bullying behavior such as verbal abuse, intimidation, humiliation, and retaliation, according to a copy obtained by Bloomberg. It also notes that harassment not based on a legally protected characteristic, such as gender or race, can still violate company rules.
One reason few companies have specific antibullying policies is that there aren't federal or state laws in the U.S. outlawing the behavior, which makes America a laggard when compared with Western Europe, Canada, and Australia.
"Some companies are realizing that a bullying boss isn't the best way to manage a company"
A lack of legal protections greatly reduces the possibility of liability for employers. It's difficult to bring a lawsuit based on bullying, and businesses have worked to keep it that way. Over the past decade, antibullying bills were introduced in about 30 states, but they've all been defeated after opposition from corporate lobbying groups, Yamada says. A workplace bullying bill is gaining sponsors in Massachusetts' legislature, but its future is uncertain. If there were antibullying laws, companies would be liable and do more to deter the practice, according to Namie. "It's the only form of abuse that hasn't been addressed by law," he says. "It goes beyond gender to 'I'm powerful, I can do any damn thing I want.' "
When executives feel entitled or untouchable, that often leads to bullying and then to other inappropriate behavior, Yamada says. In many of the workplace environments that resulted in some of the high-profile #MeToo moments, such as that at Weinstein Co., an "undercurrent" of bullying created a belief that mistreatment would go unpunished, he says. "It's that bullying atmosphere that helps to enable and empower sexual harassment."
According to the former Nike employees, the lack of a fear of reprisal created an environment where male executives, many married, could pursue and have sexual relationships with subordinates and assistants—behavior Nike says it tries to prevent but doesn't prohibit. Many times the careers of those involved were unaffected, which only normalized the behavior, they say. And when there were repercussions, the men received little if any punishment, while women often faced consequences. In one instance several years ago, they say, an executive was caught having sex with his assistant on a conference table. He wasn't disciplined, some of the people say, but the woman was reassigned.
Several former female employees describe similar experiences of encountering several slights and offenses—not one egregious incident—that increased as they moved up the ladder. One woman says her boss, a senior director, had derogatory nicknames for female staffers and would overtly favor men on the team with better opportunities. A former female manager says a male colleague had multiple complaints of bullying made against him to human resources, but the only punishment meted out was a delayed promotion. Eventually, frustration with Nike's handling of such incidents persuaded several women to leave the company, they say.
The situation was particularly galling to employees who'd been drawn to Nike because of its cool and progressive reputation, burnished by such advertising slogans as "If You Let Me Play" and its T-shirts adorned simply with the word "equality." "We always wished the company would live up to its marketing," says one former female executive. "But it didn't."
BOTTOM LINE – Nike's marketing positioned the company as a promoter of self-expression and equality. But former employees say it allowed a culture of workplace bullying to flourish.
###
France 24
Five More Executives Fired as Nike Confronts Workplace Harassment
by Agence France-Presse (AFP), May 10, 2028
Nike has dismissed additional executives as it moves to address a workplace culture marred by sexual harassment and bullying, embarrassing a brand that has self-defined around equality and empowerment.
The latest departures, confirmed Wednesday by a Nike spokeswoman, consist of five executives, including one woman, and raise the total departures to around a dozen. This includes former president Trevor Edwards, who had been seen as a CEO in waiting.
Since Edwards' departure was announced in March, US media reports have chronicled myriad cases in which women were subjected to sexual harassment and often passed up for promotions in a boorish frat-like culture.
The revelations have come amid a broader rethink in US society over gender relations following the downfall of Hollywood mogul Harvey Weinstein and the ensuing #MeToo movement that has toppled numerous figures across business, politics and entertainment.
Remaining Nike brass have said little publicly about the staffing overhaul beyond chief executive Mark Parker's remarks in March emphasizing the need to address "some behavioral issues" that clashed with Nike's culture.
"I'm committed to ensure that we have an environment where every Nike employee can have a positive experience and reach their full potential," Parker said on a March 22 earnings conference call.

"Shocking" revelations
The upheaval comes as Nike has experienced sales stagnation in North America, offset in the most recent quarter by a strong performance in China and other overseas markets.
CFRA Research analyst Victor Ahluwalia said it was too soon to know if the problems would further dent North Americans sales, but he predicted the company's travails could trouble consumers.
Nike's famous "Just Do It" slogan emphasizes empowerment, as do sponsorships of iconic athletes such as Michael Jordan and Serena Williams.
"The company was viewed as progressive and kind of millennial friendly, so for something like this to happen with a brand that comes with that kind of a message was shocking," said Ahluwalia.
But Ahluwalia praised the company for "being proactive", in contrast to other companies that responded to workplace scandals only after problems publicly surfaced, usually in media reports.
"Clearly work needs to be done and I think it will take time," Ahluwalia said. "Being proactive does position the company much better for the future."
"It is just cruelty"
Since Edwards' departure was announced in March, others to leave have included top executives in digital marketing, diversity and inclusion and Nike basketball.
The housecleaning was spurred by a survey of frustrated female workers in Nike's Oregon headquarters who polled their peers, finding widespread sexual harassment and discrimination and presenting the data to CEO Parker, according to a New York Times expose.
The Times article also cited women who reported problems ranging from being cursed at by an abusive male boss to excluded from key meetings, and passed up for promotions.
The staff dismissals follow an initial investigation into workplace conduct launched in March, according to a person familiar with the matter.
The latest group of outgoing executives includes Helen Kim, a vice president for North America, whose departure suggested to some experts that Nike's focus was no longer strictly about addressing sexism but had broadened to countering the problem of bullying.
"The larger problem is the workplace bullying, or as we call it, abusive conduct in the workplace, because that ignores gender boundaries and it ignores race," said Gary Namie of the Workplace Bullying Institute. "It is just cruelty."
"Apparently Nike's workplace culture is a very competitive, aggressive one that may sometimes deteriorate into bullying behaviors and sexual harassment and discrimination," said David Yamada, a professor at Suffolk University Law School.
"Perhaps the departures signal a core shift in management philosophy and practice for the better, but it's obviously premature to make that determination."
Some analysts worry the problems will prevent Nike from reaching a target of $50 billion in annual revenues, compared with $34.4 billion in 2017.
"Any time you see a large group of senior people leave very quickly for any reason, you better hope they have a very strong bench that can step in quickly," said Sam Poser, analyst at Susquehanna Financial Group.

Tags: Agence France-Presse, Bloomberg, David Yamada, Gary Namie, Mark Parker, Nike, sexual harassment, Suffolk University Law School, Trevor Edwards, workplace bullying, Workplace Bullying Institute
Posted in Tutorials | No Archived Comments | Post A Comment () »
Wednesday, October 8th, 2014
Dear Kalola,

I worked in the same grocery store for ten years total, taking a couple years off while I was in college. My first manager wasn't exactly easy to get along with, mainly because of his short temper that mellowed out over the years, but I wouldn't consider him a bully. But in October 2011 a new night manager was forced on our store who was friends with one of the corporate managers. The new night manager was given the manager's position in March 2012, forcing the previous manager to step down to work the produce department before retiring.

The new manager based his entire style on threats and intimidation. In some cases our longest-standing workers were fired for thefts that never actually happened while one worker that I had turned in for stealing was promoted to assistant manager. In the two years that I suffered under this man's reign of terror we went through three night managers. Some of the women told me that they were sexually harassed, but they were too scared to report anything to the corporate office. Every idea that I came up with for improvement in the store was stupid, unless someone else came up with the same idea later. The manager even went so far as to harass the customers with false accusations of stealing. I used to joke with employees to keep their receipts tattooed to their arms. During the first year under this manager our sales dropped 27%.

(more…)

Tags: let's talk, story, workplace bullying, Workplace Bullying Institute
Posted in Let's Talk with Kalola | 3 Archived Comments | Post A Comment () »
Wednesday, July 23rd, 2014
Dear Kalola,

I began a job a few months ago as a bookkeeper for a medium size company. There are 8 bookkeepers in the company. There is one bookkeeper that is terrorizing everyone and the owner of the company is doing nothing about it. She screams, swears, throws things and decides what part of her job she is going to do. The best I can figure is the owner is afraid of her because he hasn't fired her. Instead he takes her work and makes other people do it. If you approach her on a bad day to give her work that belongs to her, she will throw it at you and tell you she isn't doing it. Then she will sit there sing real loud or start laughing like something you would see in a horror film. She is doing it on purpose. She has told me the owner isn't going to fire her so she will do whatever she wants. I have seen her make another employee cry and I know people have quit because they can't deal with her.

My concern is a safety issue, what if one day she really does flip out? what if someone gets serious hurt. Who is going to be held responsible? I don't have patience for bullies and I can't believe in the year 2014, we do not have laws to protect us from such treatment. I really hope pressure can be put on our elective officials to get things moving.

I really enjoy the work I do but I refuse to allow someone to treat me like garbage or throw things at me. Not sure what will happen when she thinks she can treat me like she does everyone else.

Linda
(more…)

Tags: Gary Namie, Let's Talk with Kalola, Ruth Namie, screaming mimi, The Bully At Work, workplace bullying, Workplace Bullying Institute
Posted in Let's Talk with Kalola | No Archived Comments | Post A Comment () »
Thursday, July 3rd, 2014
Dear Kalola,

My story started when a new manager came to run the store. I had been working at the store for 12 years. I am a good team leader popular with everybody, ie., staff and customers. I am helpful and willing to share my knowledge. I am diligent and industrious and willing to stand up against injustice.

The new manager began nit picking, criticism of trivial nature all the time asking me to show others my duties then took all my achievement.

I went sick and blamed myself. I was so depressed. I picked myself up and asked for a meeting. Went to the meeting, a new area manager told me straight away I was not up to job.

With all of the prolonged negative stress, I had very bad stress and a breakdown. Sorry out of space.

Jean
(more…)

Tags: Let's Talk with Kalola, workplace bullying, Workplace Bullying Institute
Posted in Let's Talk with Kalola | No Archived Comments | Post A Comment () »
Friday, June 13th, 2014
By Richard P. Himmer, an Emotional Intelligence Consultant and Affiliate of the Workplace Bullying Institute. He is conducting research for his dissertation and will soon be soliciting for volunteers to be part of the study. He can be reached at EQMicroSkills.com.
---
For many employees, going to work each day requires all their strength — not because they are physically challenged, but because they have a bully in their life. Fifty-two percent of a target's day is spent avoiding the bully. Workplace bullying is described as psychological terror and it continues to escalate.
In 1996, 75 percent of surveyed organizations said they had no bullying in their organization, executives in sum denied that it existed. In a recent 2014 survey by the Workplace Bullying Institute (WBI) more than 65 million American workers are affected by what is called the American Cancer and public awareness is 72 percent.

Tags: emotional intelligence, Richard Himmer, workplace bullying, Workplace Bullying Institute, Workplace Bullying University
Posted in Tutorials | No Archived Comments | Post A Comment () »
Saturday, October 5th, 2013
Dear Kalola,

First, I would like to thank you for this site. It has been a tremendous help to me. I understand myself a bit better and am trying not to feel so much guilt and blame. I hope legislation is eventually passed and that victims will no longer have to suffer in silence. We see the attempts made to address bullying among school children, but how can we accomplish that when the adults cannot even set the proper example? It is an exercise in futility.

I am currently a PhD student at a large, public university. It has been my dream since I was a child. I was funded for two years, up until this year, when it was discontinued as a result of my bullying experiences. Funded graduate students are technically employees of the school, but they are rarely regarded as such. It also seems to be common knowledge that grad students are often subjected to poor treatment. I expected to be worked harder than ever before, which is not a problem for me, but I did not expect rampant emotional, mental, and sexual abuse.

I am not going to go into terribly specific detail as it would be far too long. The bottom line is that I was targeted for whatever reasons and subjected to various forms of defamation, sabotage of my work, illegitimate failing grades, and sexual harassment by a trusted adviser. Failure to respond to the sexual advances led to the loss of the one person who had the power to protect me from the other abusive faculty. When I took a class in another department and prepared to apply to their program because I heard they were far less dysfunctional, someone from my department sabotaged by admissions and my work in the class.

My funding was pulled and my reputation in a department I wanted to transfer to was tarnished. They know that without funding it is incredibly difficult to continue as a full-time Ph.D. student. They also treat their non-funded doctoral students as if they do not exist. You may be exempt from certain forms of bullying, but you also miss out on many of the perks that lead to good job prospects in research universities.

Even though I could take legal action for sexual harassment, I have been unable to find an attorney who will work on a contingency basis. I cannot afford to pay as it costs thousands upon thousands of dollars. The faculty are well aware of that and they know that grad students are often poor and so beaten down by the time they get through with them that they often leave with their tails between their legs. Sometimes they commit suicide. Dreams are shattered, insecurities are exploited, and futures are ruined. But whenever a student leaves, is expelled, or even dies, the faculty always blames the student. They usually manage to convince the student and others that it is the result of shortcomings on the student's part. It makes me sick to my stomach.

I am still a registered student there while I search for a full time job. I do not know what I will do next, but I know it will be extremely difficult for me to walk away without holding them accountable for their actions. I've been through a lot in life and I am lucky to have loved ones who are emotionally supportive so I know I will survive this. I see other students, younger and more vulnerable, and I am scared for them. The risk of suicide is real and I see some on the brink. Faculty even joke about it in front of them. It is despicable. It should be criminal. There is a university I will not name where, over the past decade, five grad students under the same adviser have committed suicide and nothing has been done. The professor is still employed there and his abuse continues. I know I will do whatever I can to bring attention to it at my university before I walk away. I have already brought my concerns to the attention of several university officials to no avail, but I will figure something else out.

At the same time these abuses are occurring, other university officials are holding seminars to address violence and bullying on campus. What is wrong with people? How hypocritical can you be. But I guess it is the same ole same ole. Do as I say not as I do. What's really scary is that I've heard grad students who are subjected to this abuse talk about how they can't wait to become professors and have the chance to bully students themselves. Real nice. If that's how academia works, then I want no part of it.

So yes, I agree that workplace bullying needs desperate attention and I also believe that higher education must be included, particularly graduate programs because those students are known targets. Submission to sexual exploitation and psychological abuse should not be a prerequisite for earning a doctoral degree.

Linda
(more…)

Tags: Let's Talk with Kalola, workplace bullying, Workplace Bullying Institute
Posted in Let's Talk with Kalola | 2 Archived Comments | Post A Comment () »
Saturday, September 28th, 2013
Dear Kalola,

Two months will mark the year anniversary of my disillusionment from employment. I continue to have many sleepless nights, suffer from depression and am frankly scared to even look for work. For anyone who thinks bullying is a playground taunting toward the weak or society's outcasts – think again. It can be a subversive, calculating and cruel breakdown of a good person/employee's belief in themselves and their abilities.

For a bit over eight years I worked in a large corporation as an Executive Assistant. For the greater part of that time I was considered one of the best – independent and proactive with unquestionable integrity. Then my organizational structure changed/grew and 4 other Assistants joined the department.

Over the course of the next two years one of these Assistants (peer) lied, set up "failure traps", twisted my best traits into weaknesses and effectively gained the support of the other Assistants and her Executive. The mob grew fast. It was shockingly evil and efficient. And I was shockingly naive for far too long! Not until it snowballed into my PIP (performance improvement program) did I fight back. Defending myself at this point fueled the bully's fire. Speaking with my boss put him in a difficult position with his own peers (the bully's bosses). Bringing in HR not only was ineffective, but strengthened my reputation as a liability to the company.

After living under these circumstances for months (some incidents got quite ridiculous: one involved Ms. Bully writing an email to HR and my boss because I hadn't put an envelope in a travel packet, breaking some unknown, unspoken and un-requested protocol; Ms. Bully actually gave my name and phone number to a police officer as a possible suspect in a crime!) I put in my resignation. My boss and I worked out a 6-week transition period so I could train a replacement and find another job within the company. By this point I was a broken, anxious, emotional wreck but I still had the hope to stay within the company. I had multiple interviews during those six weeks and for the month following my official last day that went very well, and then mysteriously disappeared.

I know there can only be two or three people in my life who actually believe this blow by blow and those are the select few of my closest friends whom I worked with and confided in at the time. My poor, dear husband and family have only seen it's devastating affect on me.

Society will only start believing and understanding when stories like mine combine with other types of workplace bullying – education must include types, prevention, interference techniques and recovery.

Companies will only start taking workplace bullying seriously when a potentially large monetary penalty is involved – if discrimination is illegal, workplace bullying should be illegal.

Teri
(more…)

Tags: abuse, Let's Talk with Kalola, story, workplace bullying, Workplace Bullying Institute
Posted in Let's Talk with Kalola | 2 Archived Comments | Post A Comment () »
Wednesday, August 7th, 2013
Dear Kalola,

I've worked as a contracted Security Guard at a State DHS building for four years before they placed a co-worker next to me who I believed was hired to intimidate, gas light, sexually harass, annoy, invade my personal privacy, home, sabotage my radios, and work environment, cyber, cell phone, and text mob me.

I was asked how much it cost for sexual favors - sexual harassment. Because I refused a black male's sexual advancements he said I was prejudice. I broke out in hives and battled a stress rash which he told everyone I had bed bugs and fleas. I had to put up with rude, degrading humiliating remarks.

The more I complained to management and my employer the worse the harassment became. No one did anything so I had to make two police reports, once when my home and car keys went missing and showed up at my work three days later, and once when someone put water in my gas tank, all this bullying has caused me so much financial hardships with doctor fees, and car repair, I was demoted and transferred and no one will help me not even the police.

Coral
(more…)

Tags: bullied, demoted, Let's Talk with Kalola, workplace, Workplace Bullying Institute
Posted in Let's Talk with Kalola | No Archived Comments | Post A Comment () »