Posts Tagged 'Workplace Bullying Institute'
Tuesday, August 14th, 2018

August 24 is the deadline to save $500 on tuition for the September 14-15-16 session held in San Francisco.
What is the WBI Workplace Bullying University?
It is the only training in the world designed for professionals which delivers comprehensive, research-driven coverage of every aspect of the workplace bullying/abusive conduct phenomenon. It is a 3-day intensive, immersive, small group experience. The live interactions and discoveries alone among participants are worth the tuition price.
What do participants take home to their practices, organizations or unions?
(1) All the evidence-based materials required to educate/train all workers, including supervisors and managers.
(2) Strategies for a comprehensive employer solution complete with predictable barriers and obstacles to implementation.
(3) All the resources to launch a successful internal anti-bullying initiative in your organization or union.
Who typically attends?
Professionals from the fields of healthcare, mental health, legal, higher education, unions, consulting & training, HR, safety & health, school bullying and individuals charting new career paths.
Who is the instructor?
Drs. Gary and Ruth Namie launched the program in 2008. Gary now teaches the course. He brings 21 years experience in workplace bullying based on: advising bullied targets, coaching high-level perpetrators, conducting research, writing popular books on the topic, serving as expert witness in court cases, creating policies and enforcement procedures for employers, contributing to scientific journals and books, and training teams of experts for unions and employers. Gary's professional speaking career is backed by his two decades of being an award-winning university professor of management and psychology, trained as a PhD social psychologist.
Does the training cover how to write policies/procedures and how to implement organization-wide campaigns against bullying?
When graduates leave, they will know what their organization needs to do to stop bullying. Policy/procedure guidelines are discussed. Details are available from WBI on a DVD at additional cost.
Do you teach the WBI method of consulting, specifically how to deal with bullies?
No. Our Respectful Conduct Clinic for offenders remains a proprietary process for WBI use with client organizations only.
How often is University offered?
At least four times a year. In 2018, the September session will be the last in the U.S. An October session will be held in New Zealand. January 2019 will start the next year. Dates not set.
What do graduates say about the University experience?
"Gary and Ruth Namie have compiled one of the most impressive educational seminars I have ever attended. Their research and presentation was superb."
"The most informative, delightful training I have received in 40 years. Dr. Namie is knowledgeable and also cares deeply about employees who are bullied. His sense of humor kept it fun."
"… the best training I have attended in my twenty-three years as a both a union attorney and union representative. While Dr. Namie's knowledge of workplace bullying is encyclopedic, he is able to present this information with incredible clarity and passion."
"This is the first time in my 17 years as a professional that I attended training and walked away with a turn-key program."
"This is more than a course, a class, or a training. It is truly an experience. I have been in HR for 20 years and I can tell you that attending WBU was one of the most fulfilling and gratifying experiences of my life."
"This was a unique and remarkable intellectual and personal experience … a jam-packed, soup-to-nuts curriculum … a very, very substantive program"
"I came away with an in-depth perspective that permeated my being"
"Gary is brilliant, charismatic and thoughtful. He keeps the group connected through his experiences and knowledge. I've received training on many workplace issues. Finally — now — I have the tools to address one of the most rampant and harmful workplace problems of all — bullying. I'm grateful to have the tools to achieve a psychologically healthy and safe workplace!"
Where are sessions held? Is there an online version?
We meet Friday to Sunday at the Bay Landing Hotel in Burlingame, California (adjacent to the San Francisco airport (SFO)). All travel and meal expenses are borne by participants or their sponsoring organizations.

Currently, there is no online version. When and if there is ever one, enrollees will miss the lively interaction with bright, motivated people who share the commitment to eradicate workplace abuse.
What is the cost?
Normal tuition is $2,500 per person. The time-sensitive discount is $2,000. Organizations can send 3 representatives for the cost of two. Union representatives' tuition is $2,000.
How do I register?
(1) Visit the University website to learn more about the program or call 360-656-6630 with questions.
(2) Download the Registration Form, complete it and send a check for either a $500 deposit or $2,000 full tuition to be RECEIVED by us on/before Aug. 24.
(3) Complete the online Registration confirming that payment is on its way.
See you there!

Tags: abusive conduct, bullied targets, bullies, Gary Namie, perpetrators, Ruth Namie, Workplace Bullying Institute, workplace bullying training, workplace bullying uinversity
Posted in WBI Education, Workplace Bullying University | No Archived Comments | Post A Comment () »
Saturday, May 19th, 2018
Shoemaker Nike landed in the news for a good reason. CEO Mark Parker suddenly started listening to employees. The Board heard from departing female executives that Nike had a toxic work environment, at least for women. There was an internal anonymous survey about misconduct. It listened to other women acting as an internal #MeToo task force who called out the corporation for years of treating sexual harassment and coercion complaints with indifference. They outed their own version of Harvey Weinstein, Trevor Edwards, a man being groomed to succeed Parker. He was branded an undesirable sexual predator like so many other high-profile men. Despite having been shamed into expulsion, Nike gave Edwards a soft economic landing — $525,000 payout and almost $9 million worth of stock.
Edwards was allegedly responsible for "behavior occurring within our organization that do not reflect our core values of inclusivity, respect and empowerment," Parker wrote to employees. He saluted the "strong and courageous employees" who had come forward. The reporting attached below found that Nike has an anti-bullying policy that addresses misconduct in addition to legally mandated protections for special status group members. Hence, the negativity associated with disrespect.
Following the breaking news about the ejection of Edwards, a rarity in American business, Nike announced the termination of five others — including one woman executive. To WBI this meant that the MeToo complainants had reached beyond the narrow bounds of illegal sexual harassment. The primarily women complainants had had it with abusive practices by more people than Edwards, including the woman, Gina. By firing a woman on the advice of women employees, same gender abuse must have been practiced. That's workplace bullying.
We hope for two outcomes: (1) that the Nike awakening to the much more prevalent and damaging practice of generalized workplace abuse in addition to sexual harassment is real and sustainable, and (2) that American employers see the challenge posed by early adopter Nike and start to replicate the corrections in their own C-suites.
Purging high-level bullies will never likely be a fad, but it is certainly time that major corporations (and stagnant government agencies at all levels) discover bullying and choose to eradicate it for the psychological safety of the vast majority of its workers. Stop protecting and defending abusers.
Could this be an American employer awakening? We wait to see.
###
The Bloomberg News and France 24 reports about Nike …
Bloomberg
Companies Have an Aha! Moment: Bullies Don't Make the Best Managers
by Matthew Townsend and Esmé E Deprez, Bloomberg, May 9, 2018
Nike's ouster of a top executive casts new light on the hard-knuckled behavior common in many offices.
After Nike Inc. ousted a handful of male executives for behavior issues over the past few months, some media reports tied the departures to the #MeToo movement and its revelations of sexual harassment and assault. Interviews with more than a dozen former Nike employees, including senior executives, however, paint a picture of a workplace contaminated by a different behavior: corporate bullying. The workers say the sneaker giant could be a bruising place for both men and women, and that females did bullying, too. On May 8, Nike signaled as much when it confirmed four more exits stemming from an internal misconduct inquiry, including the departure of a woman with more than 20 years at the company.
The surprise announcement in March that 55-year-old Nike brand president Trevor Edwards—who had a reputation for humiliating subordinates in meetings—would leave following an internal investigation about workplace behavior issues suggests the coddling of tough guys may have come to an end. "Some companies are realizing that a bullying boss isn't the best way to manage a company," says David Yamada, a professor at Suffolk University Law School in Boston who's authored antibullying legislation. "Maybe we're starting to see a tipping point."
Gary Namie, co-founder of the Workplace Bullying Institute, who consults with businesses on workplace issues, says one reason some companies have long tolerated or even encouraged such behavior is that many American managers believe the workplace is by nature rough around the edges. "Bullying is inextricably interwoven with capitalism," he says. "It creates a zero-sum, competitive work environment where people feel they need to obliterate their competitors."
Some former employees say that was the case at Nike, particularly among managers who used abusive tactics to safeguard their own position or authority. "There are a lot of very talented people deeper in the organization who have been marginalized both by senior and middle management trying to protect their domain," says Shaz Kahng, who was a senior executive at Nike for six years through 2010. "People are often promoted based on relationships, not on results."
In response to complaints, including from departing female executives, Nike ousted Edwards, who'd been a favorite to become the company's next chief executive officer. Edwards, according to some of the former employees, at times bullied workers through insults and disparaging comments. More important, once he set the tone, other people mirrored his behavior, they say. A handful of executives who worked for Edwards have since left Nike.
"I've been disturbed to hear from some employees of behavior inconsistent with our values," CEO Mark Parker said in an emailed statement. "When we discover issues, we take action."
Nike also provided Bloomberg with the transcript of a town hall Parker held on May 3, in which he vowed the environment will change. "We all have an obligation—and it's non-negotiable—to create and cultivate an environment of respect and inclusion," he told employees. "And that starts with me. I apologize to the people on our team who were excluded. … We're going to move from a place where the loudest voices carry the conversation to [one where] every voice is heard."
The company declined to make Edwards available for an interview. He's acting as an adviser to Parker until he retires in August, when he'll receive a $525,000 payout, according to public filings.
Nike says it's reviewing how it deals with complaints, redesigning management training, and beginning unconscious bias awareness education for employees this year. It's also vowed to promote more women and minorities into leadership roles. Currently, managers are 38 percent women and 23 percent nonwhite.
Workplace bullying is often defined as behavior—including verbal abuse, derogatory remarks, humiliation, and undermining work performance—that results in physical or mental harm. About 1 in 5 Americans say they've been the target of it, according to a 2017 survey by Zogby Analytics that was commissioned by the Workplace Bullying Institute. Men make up 70 percent of the perpetrators and 34 percent of the targets. "It's a significant and still underreported problem," Yamada says. Surveys have shown such behavior is four times more prevalent than legally actionable sexual harassment, he says. "Bullying looms large."
Ironically, Nike is one of the minority of companies that has a formal antiharassment policy that calls out bullying behavior such as verbal abuse, intimidation, humiliation, and retaliation, according to a copy obtained by Bloomberg. It also notes that harassment not based on a legally protected characteristic, such as gender or race, can still violate company rules.
One reason few companies have specific antibullying policies is that there aren't federal or state laws in the U.S. outlawing the behavior, which makes America a laggard when compared with Western Europe, Canada, and Australia.
"Some companies are realizing that a bullying boss isn't the best way to manage a company"
A lack of legal protections greatly reduces the possibility of liability for employers. It's difficult to bring a lawsuit based on bullying, and businesses have worked to keep it that way. Over the past decade, antibullying bills were introduced in about 30 states, but they've all been defeated after opposition from corporate lobbying groups, Yamada says. A workplace bullying bill is gaining sponsors in Massachusetts' legislature, but its future is uncertain. If there were antibullying laws, companies would be liable and do more to deter the practice, according to Namie. "It's the only form of abuse that hasn't been addressed by law," he says. "It goes beyond gender to 'I'm powerful, I can do any damn thing I want.' "
When executives feel entitled or untouchable, that often leads to bullying and then to other inappropriate behavior, Yamada says. In many of the workplace environments that resulted in some of the high-profile #MeToo moments, such as that at Weinstein Co., an "undercurrent" of bullying created a belief that mistreatment would go unpunished, he says. "It's that bullying atmosphere that helps to enable and empower sexual harassment."
According to the former Nike employees, the lack of a fear of reprisal created an environment where male executives, many married, could pursue and have sexual relationships with subordinates and assistants—behavior Nike says it tries to prevent but doesn't prohibit. Many times the careers of those involved were unaffected, which only normalized the behavior, they say. And when there were repercussions, the men received little if any punishment, while women often faced consequences. In one instance several years ago, they say, an executive was caught having sex with his assistant on a conference table. He wasn't disciplined, some of the people say, but the woman was reassigned.
Several former female employees describe similar experiences of encountering several slights and offenses—not one egregious incident—that increased as they moved up the ladder. One woman says her boss, a senior director, had derogatory nicknames for female staffers and would overtly favor men on the team with better opportunities. A former female manager says a male colleague had multiple complaints of bullying made against him to human resources, but the only punishment meted out was a delayed promotion. Eventually, frustration with Nike's handling of such incidents persuaded several women to leave the company, they say.
The situation was particularly galling to employees who'd been drawn to Nike because of its cool and progressive reputation, burnished by such advertising slogans as "If You Let Me Play" and its T-shirts adorned simply with the word "equality." "We always wished the company would live up to its marketing," says one former female executive. "But it didn't."
BOTTOM LINE – Nike's marketing positioned the company as a promoter of self-expression and equality. But former employees say it allowed a culture of workplace bullying to flourish.
###
France 24
Five More Executives Fired as Nike Confronts Workplace Harassment
by Agence France-Presse (AFP), May 10, 2028
Nike has dismissed additional executives as it moves to address a workplace culture marred by sexual harassment and bullying, embarrassing a brand that has self-defined around equality and empowerment.
The latest departures, confirmed Wednesday by a Nike spokeswoman, consist of five executives, including one woman, and raise the total departures to around a dozen. This includes former president Trevor Edwards, who had been seen as a CEO in waiting.
Since Edwards' departure was announced in March, US media reports have chronicled myriad cases in which women were subjected to sexual harassment and often passed up for promotions in a boorish frat-like culture.
The revelations have come amid a broader rethink in US society over gender relations following the downfall of Hollywood mogul Harvey Weinstein and the ensuing #MeToo movement that has toppled numerous figures across business, politics and entertainment.
Remaining Nike brass have said little publicly about the staffing overhaul beyond chief executive Mark Parker's remarks in March emphasizing the need to address "some behavioral issues" that clashed with Nike's culture.
"I'm committed to ensure that we have an environment where every Nike employee can have a positive experience and reach their full potential," Parker said on a March 22 earnings conference call.

"Shocking" revelations
The upheaval comes as Nike has experienced sales stagnation in North America, offset in the most recent quarter by a strong performance in China and other overseas markets.
CFRA Research analyst Victor Ahluwalia said it was too soon to know if the problems would further dent North Americans sales, but he predicted the company's travails could trouble consumers.
Nike's famous "Just Do It" slogan emphasizes empowerment, as do sponsorships of iconic athletes such as Michael Jordan and Serena Williams.
"The company was viewed as progressive and kind of millennial friendly, so for something like this to happen with a brand that comes with that kind of a message was shocking," said Ahluwalia.
But Ahluwalia praised the company for "being proactive", in contrast to other companies that responded to workplace scandals only after problems publicly surfaced, usually in media reports.
"Clearly work needs to be done and I think it will take time," Ahluwalia said. "Being proactive does position the company much better for the future."
"It is just cruelty"
Since Edwards' departure was announced in March, others to leave have included top executives in digital marketing, diversity and inclusion and Nike basketball.
The housecleaning was spurred by a survey of frustrated female workers in Nike's Oregon headquarters who polled their peers, finding widespread sexual harassment and discrimination and presenting the data to CEO Parker, according to a New York Times expose.
The Times article also cited women who reported problems ranging from being cursed at by an abusive male boss to excluded from key meetings, and passed up for promotions.
The staff dismissals follow an initial investigation into workplace conduct launched in March, according to a person familiar with the matter.
The latest group of outgoing executives includes Helen Kim, a vice president for North America, whose departure suggested to some experts that Nike's focus was no longer strictly about addressing sexism but had broadened to countering the problem of bullying.
"The larger problem is the workplace bullying, or as we call it, abusive conduct in the workplace, because that ignores gender boundaries and it ignores race," said Gary Namie of the Workplace Bullying Institute. "It is just cruelty."
"Apparently Nike's workplace culture is a very competitive, aggressive one that may sometimes deteriorate into bullying behaviors and sexual harassment and discrimination," said David Yamada, a professor at Suffolk University Law School.
"Perhaps the departures signal a core shift in management philosophy and practice for the better, but it's obviously premature to make that determination."
Some analysts worry the problems will prevent Nike from reaching a target of $50 billion in annual revenues, compared with $34.4 billion in 2017.
"Any time you see a large group of senior people leave very quickly for any reason, you better hope they have a very strong bench that can step in quickly," said Sam Poser, analyst at Susquehanna Financial Group.

Tags: Agence France-Presse, Bloomberg, David Yamada, Gary Namie, Mark Parker, Nike, sexual harassment, Suffolk University Law School, Trevor Edwards, workplace bullying, Workplace Bullying Institute
Posted in Employers Doing Good | No Archived Comments | Post A Comment () »
Tuesday, February 13th, 2018
Bully Bosses Can Inflict More Damage with Negative References
By Dinah Wisenberg Brin, SHRM, Feb 12, 2018
Employees trying to escape a bullying boss, and even those who have managed to land a new position, may be surprised to learn that their workplace nemesis is causing further damage by providing negative job references.
HR departments similarly may not realize that supervisors are disregarding company policies against giving references that go beyond confirming job titles and employment dates.
With prospective employers often bypassing human resources and calling supervisors for references, bully bosses can and do impair employees' future job prospects, experts say.
"In the good old days, the references were HR, and in many cases, in many companies, HR still is the traditional venue. But we've seen a marked shift of interest in calling the former supervisors," said Jeff Shane, president of reference-checking firm Allison & Taylor. "Hiring managers have long since figured out that supervisors tend to be far more talkative."
Job seekers often wrongly believe that their current or former employers will say nothing negative and do no more than confirm employment, Shane said.
Many supervisors, however, never receive company training on how to respond to employee reference checks, while many others forget or ignore the policy, he added. His Rochester, Mich.-based firm checks references on behalf of job seekers, compiles reports on responses from former employers, and, if necessary, sends cease-and-desist letters to companies violating policies or even laws by supplying negative references that cross the line into misrepresentations or lies and that could be construed as defamation.
"We call a great many supervisors as references for individuals. The vast majority of the time, the supervisor has something to say" beyond titles and employment dates; their reviews, even if sincere, often are less than optimal. "In many instances, they know exactly what they're doing" and that the employee is unlikely to ever find out if the negative review caused a missed opportunity, Shane said.
Nearly half of all reference checks that Allison & Taylor conducts contain some degree of negativity, he said. Even a supervisor who gives an employee a positive letter of recommendation will sometimes go "180 degrees in another direction" when called for a reference, he said.
Smart firms wanting to avoid litigation coach bosses to give only employment dates, said Gary Namie, Ph.D., co-founder of the Workplace Bullying Institute, which refers bullying targets to Allison & Taylor to learn about feedback from a current or former employer. Often the news confirms a candidate's fear, and "a great many of our clients are totally shocked and devastated" by what is found. (more…)

Tags: Allison & Taylor, bullied targets, bullies giving bad references, Gary Namie, reference checking, SHRM, workplace bullying, Workplace Bullying Institute
Posted in Employers Gone Wild: Doing Bad Things, Media About Bullying, Print: News, Blogs, Magazines | No Archived Comments | Post A Comment () »
Sunday, December 31st, 2017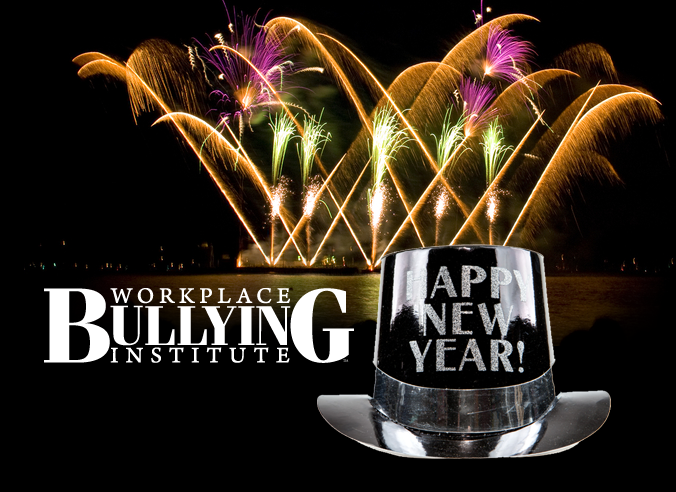 Tags: abusive conduct, Gary Namie, Ruth Namie, Workplace Bullying Institute
Posted in Hear Ye! Hear Ye! 2 | Comments Off on If wishing could make it happen – have an abuse-free 2018 | Post A Comment () »
Wednesday, December 13th, 2017

Tags: Dave Phillips, Gary Namie, Jessi Eden Brown, Ruth Namie, Workplace Bullying Institute
Posted in Hear Ye! Hear Ye! 2 | Comments Off on Happy Holidays & Happy New Year 2018 | Post A Comment () »
Wednesday, December 13th, 2017
Battling Bullying in the Workplace
By Rebecca Koenig, U.S. News & World Report, Dec. 13, 2017
It's Monday morning and you're filled with dread. You have to present research at the office this afternoon, but the gnawing feeling in your stomach isn't just performance anxiety. Whenever you speak in front of your team, your boss interrupts to mock what you say. He questions your judgment, calls you an "idiot" and even mimics your voice in an unflattering way. Worse, a few of your co-workers have started to follow his lead, criticizing your work behind your back, and, increasingly, to your face.
You know your contributions are excellent – at least, you used to know. Lately, you haven't been so sure.
Welcome to the world of workplace bullying. That's right, the same sort of name-calling, intimidation and ostracism some children experience on the playground can take root among adults in their offices. When constructive criticism crosses a line, or a co-worker undermines your efforts, or your boss starts spreading rumors about your personal life, those are all examples of workplace bullying.
The effects of this abusive behavior can be serious: decreased self-esteem, worsened health and career deterioration. Read on to learn more about the phenomenon and how to combat it.

Understanding the Workplace Bullying Definition
Office bullying is defined as "repeated, health-harming mistreatment" that involves verbal abuse, work sabotage and/or humiliation and intimidation, according to the Workplace Bullying Institute, a research and advocacy organization.
It may occur one-on-one (between two co-workers or a supervisor and subordinate) or in a group setting. The latter, in which multiple people gang up on one person, is known as "mobbing."
Typically, a bully is "an aggressive person who strikes out at a particular person more than once over the course of months," says Nathan Bowling, a psychology professor at Wright State University.
Workplace Bullying Statistics
One-fifth of American adults have directly experienced abusive conduct at work, according to a 2017 Workplace Bullying Institute survey of more than 1,000 people.
More than two-thirds of office bullies are men, and both men and women bullies target women at higher rates. Hispanics report higher levels of bullying than members of any other race.
It's not uncommon to have a bully boss: 61 percent of targets reported bullying from people in more senior positions.
(more…)

Tags: David Yamada, Gary Namie, workplace bullying, Workplace Bullying Institute
Posted in Media About Bullying, Print: News, Blogs, Magazines, WBI Surveys & Studies | No Archived Comments | Post A Comment () »
Tuesday, October 24th, 2017
Loading ...

Tags: aftermath of bullying, bullied targets, economic harm, psychological safety, survey, Workplace Bullying Institute
Posted in WBI Surveys & Studies | No Archived Comments | Post A Comment () »
Tuesday, October 24th, 2017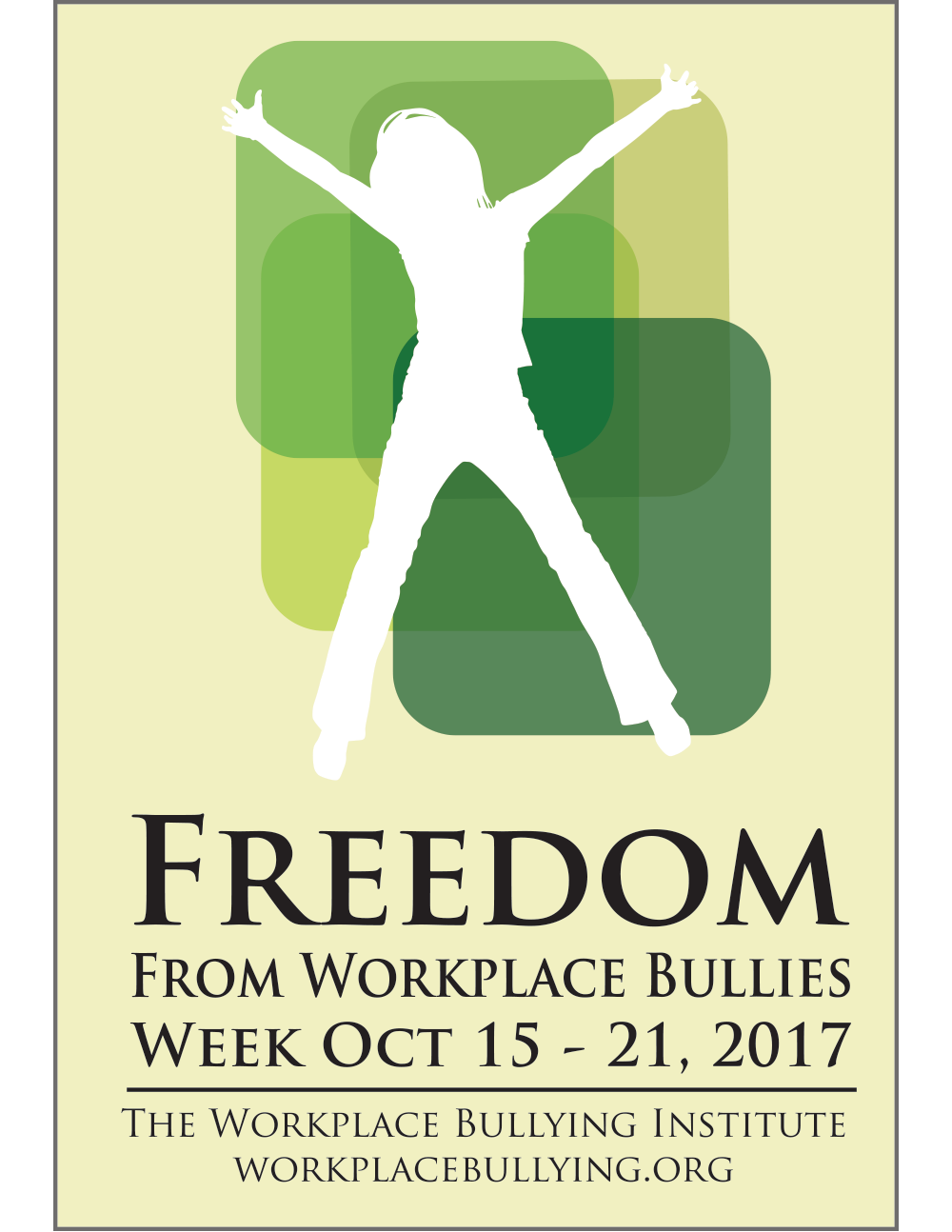 The California Healthy Workplace Advocates, CHWA, is one of the most active state-based groups in the nation. They are volunteer citizen lobbyists for the WBI anti-bullying Healthy Workplace Bill. They have members statewide. Monthly meetings are held in Sacramento. Details here.)
WBI established Freedom Week from Workplace Bullies Week, the third week in October during Domestic Violence Awareness and Bullying Prevention Month. CHWA routinely solicits proclamations from California cities and counties that declare the municipalities' endorsement of the following principles:
• government has an interest in promoting the social and economic well-being of its citizens
• that well-being depends upon the existence of healthy and productive employees working in safe and abuse-free work environments
• abusive work environments are costly for employers with consequences including reduced productivity, absenteeism, turnover, injuries
• protection from abusive work environments should apply to every worker, and not be limited to legally protected class status based only on race, color, gender, national origin, age or disability
Here are the cities and counties that proclaimed Freedom Week in 2017. Use links for viewing.

Tags: 2017 proclamations, abuse-free work environments, abusive conduct, california city proclamations, California Healthy Workplace Advocates, CHWA, Freedom from workplace bullies week, proclamations, worker well-being, Workplace Bullying Institute
Posted in Events & Appearances, Freedom Week, WBI Education | No Archived Comments | Post A Comment () »
Tuesday, October 17th, 2017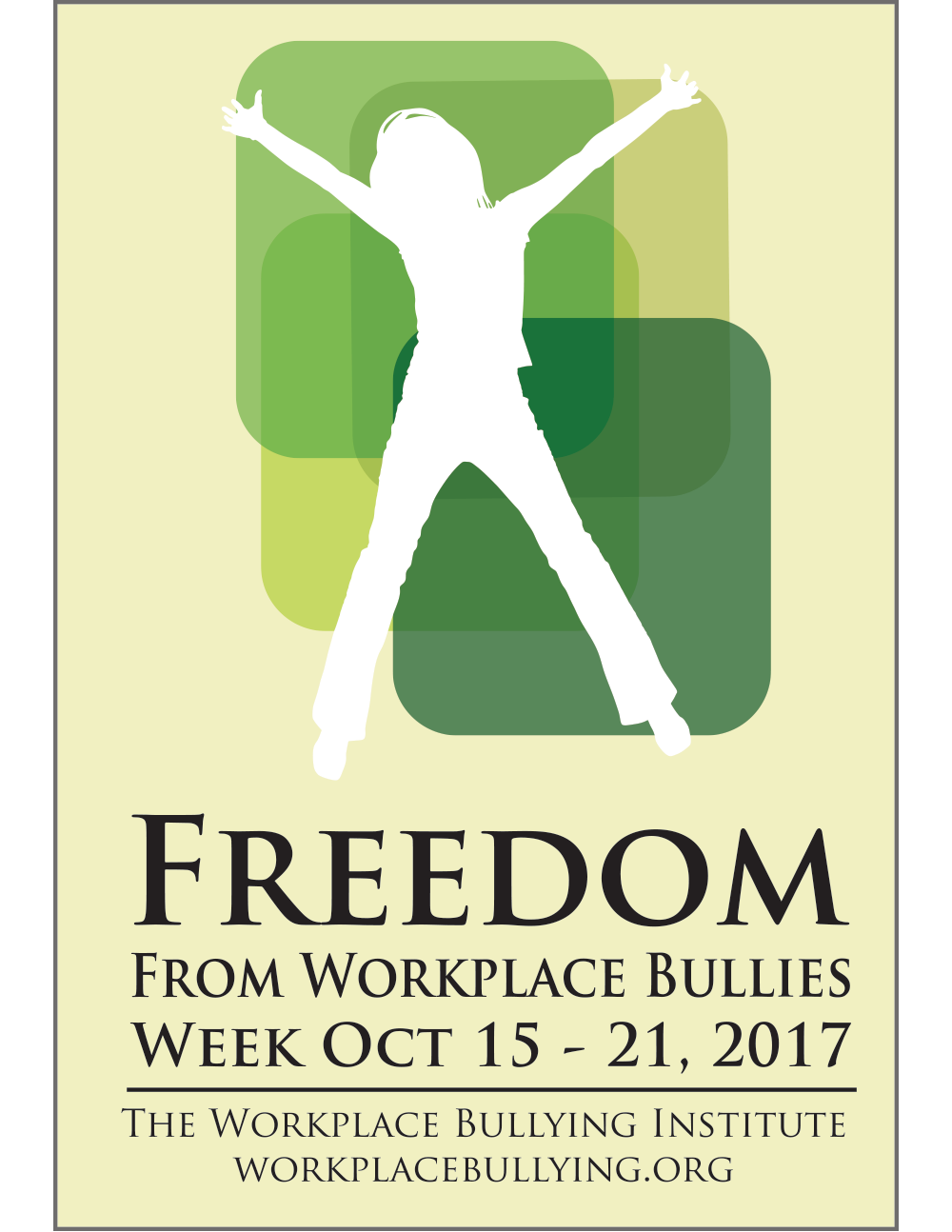 Tags: abusive conduct, Freedom from workplace bullies week, Freedom Week, workplace bullying, Workplace Bullying Institute
Posted in Freedom Week | No Archived Comments | Post A Comment () »
Friday, July 7th, 2017
2017 WBI U.S. Workplace Bullying Survey
Support for a New Law Against Abusive Conduct At Work

77% of Americans support a new law to address abusive conduct at work

The Workplace Bullying Institute commissioned Zogby Analytics to conduct the 2017 national scientific U.S. survey across two days in late April. The stratified random sample of 1,008 individuals represented all adult Americans. [Zogby methodology and sample details here.] It was WBI's fourth national survey.
We used the definition of workplace bullying that matches perfectly the definition codified in the Healthy Workplace Bill. Bullying is repeated mistreatment but also "abusive conduct." We asked American survey respondents to consider only the most serious forms of bullying.
When the 2017 WBI U.S. Workplace Bullying data were collected, legislation written to address abusive conduct in American workplaces – the Healthy Workplace Bill – had been introduced in 30 states and Territories. The bill had not yet been enacted into law in its complete form.
We asked all respondents [N = 1,008] whether they supported or opposed such a law.
Wording of the Support for New Law Question: Do you support or oppose enactment of a new law that would protect all workers from repeated health-harming abusive mistreatment in addition to protections against illegal discrimination and harassment?

It is clear that the American public wants to see worker protections against abusive conduct extended beyond the anti-discrimination statutes – 77% support specific anti-bullying legislation when strongly support and somewhat support proportions are combined.
Self-described political ideology was one of the demographic variables provided by Zogby. There were 242 liberals, 314 moderates and 369 conservatives. Table 12 shows the pattern of support and opposition for the new anti-abuse workplace law. The phenomenon of bullying ignores ideological boundaries (with the possible Trump effect being the exception, see the analysis of the final question). Nevertheless, liberals and moderates showed the strongest support for the bill. It is noteworthy that two-thirds of conservatives support enacting the law against abusive conduct at work.
Gary Namie, PhD
WBI Research Director
Download the pdf version of these Support for New Law findings.
View findings related to other questions asked in the 2017 Survey.
Download the complete report of the 2017 WBI U.S. Workplace Bullying Survey.

Tags: 2017 WBI U.S. Workplace Bullying Survey, abusive conduct, Gary Namie, Healthy Workplace Bill, law enactment, state law, WBI, Workplace Bullying Institute, workplace bullying law
Posted in Bullying-Related Research, Social/Mgmt/Epid Sciences, WBI Education, WBI Surveys & Studies | 2 Archived Comments | Post A Comment () »