April 1st, 2015
Utah mandates Abusive Conduct training for state workplaces!
Utah HB 216, sponsored by Rep. Keven Stratton, sailed through the House and Senate and was signed into law by Gov. Gary Herbert. The training mandate law drew its definition of abusive conduct from the WBI Healthy Workplace Bill:
"Abusive conduct means verbal, nonverbal, or physical conduct of an employee to another employee that, based on its severity, nature, and frequency of occurrence, a reasonable person would determine is intended to cause intimidation, humiliation, or unwarranted distress or results in substantial physical or psychological harm as a result of intimidation, humiliation, or unwarranted distress; or exploits an employee's known physical or psychological disability."
The law requires state agencies to train supervisors and employees about how to prevent abusive conduct. Biannual training must include the definition of abusive conduct, its ramifications, resources available and the employer's grievance process. In addition, professional development training will also cover ethical conduct and leadership practices based on principles of integrity. The law takes effect July 1, 2015.
Trace the bill's route through the legislative process. WBI thanks the sponsoring Representative, Sen. Ted Weiler who ushered the bill through the Senate, the Governor, and State Coordinator Denise Halverson and citizen lobbyists who participated in committee hearings.
Utah is the second state to pass a training-only law to begin to address abusive conduct in the workplace. Utah's bill is superior to Calfornia's training-only bill of 2014.
Here's the current legislative HWB map as of 4/1/15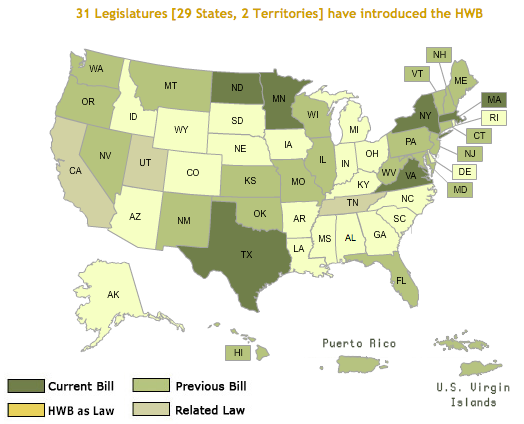 Tags: abusive conduct, bill, Denise Halverson, Healthy Workplace Bill, Keven Stratton, law, legislation, Utah, workplace bullying
This entry was posted on Wednesday, April 1st, 2015 at 11:26 am and is filed under HWB. You can follow any responses to this entry through the RSS 2.0 feed. You can leave a response, or trackback from your own site.