Results of the 2007 WBI U.S.
Workplace Bullying Survey
The Workplace Bullying Institute wrote the survey and commissioned Zogby International to collect data for the first representative study of all adult Americans on the topic of workplace bullying. The survey was sponsored by a generous gift from the Waitt Institute for Violence Prevention; Cindy Waitt, Executive Director. The principal findings convinced doubters that bullying was a substantial problem of epidemic proportions. The findings of the study are available below.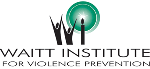 Key Findings
The results are based on 7,740 respondents who comprised a sample representative of all American adults in August, 2007. The margin of error was +/- 1.1 percentage points.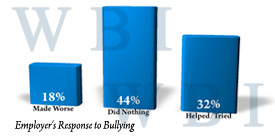 37% of workers have been bullied: 13% currently and 24% previously
Most bullies are bosses (72%)
More perpetrators are men (60%) than are women(40%)
Most Targets (57%) are women
Women bullies target women (71%); men target men (54%)
Bullying is 4 times more prevalent than illegal discriminatory harassment
62% of employers ignore the problem
45% of Targets suffer stress-related health problems
40% of bullied individuals never tell their employers
Only 3% of bullied people file lawsuits
Prevalence
37% of the U.S. workforce (an est. 54 million Americans) report being bullied at work; an additional 12% witness it. That is a total of 49% of workers. Conversely, 45% report neither experiencing nor witnessing bullying. Hence, a silent epidemic.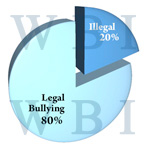 A Different Kind of Harassment
Bullying is 4 times more common than harassment (based on illegal discrimination). In only one out of five (20%) of bullying cases does discriminatory conduct play a role.
Bullying Damages Employees' Health
The mythology surrounding bullying is that targets complain and litigate frequently. However, 45% of targets experience stress-related health problems. WBI 2003 research found that targeted individuals suffer debilitating anxiety, panic attacks, clinical depression (39%), and even post-traumatic stress (PTSD, 30% of women; 21% of men).
In addition, once targeted, a person has a 64% chance of losing the job for no reason. Despite the health harm, 40% never report it. Only 3% sue and 4% complain to state or federal agencies.
---
---
Survey results are © 2007 Workplace Bullying Institute. Do not cite without crediting WBI.
<!-article>